Case Study
|
Motor Control
SYLVAN LAKE LIFT STATION

Creating a highly reliable and highly flexible custom motor control panel solution.
Download PDF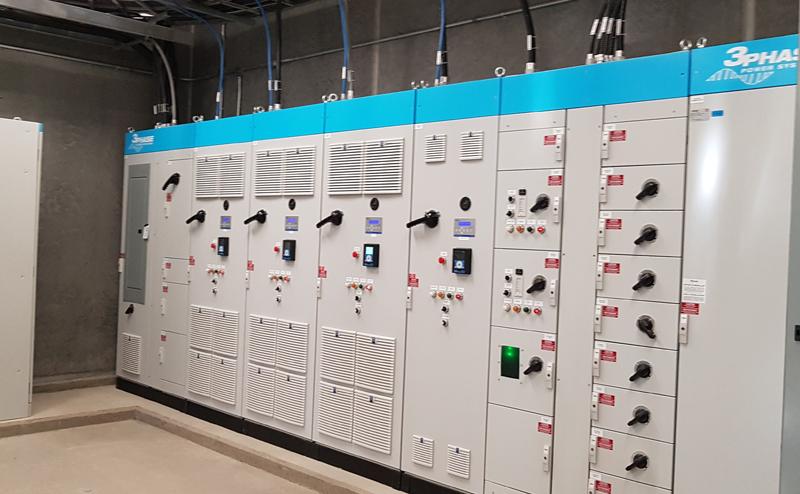 BACKGROUND
Established in 2004, the The North Red Deer Commission was purposed to transport potable water from the City of Red Deer via a 50 km transmission line to municipal commission members. The member municipalities include the Town of Ponoka, Town of Blackfalds, Lacombe County and Ponoka County, and the City of Lacombe.

After successful implementation of North Red Deer Lacombe Lift Station and Blackfalds Lift Station with T&T Power Distribution and Controls equipment, the Red Deer City Council-approved Sylvan Lake Regional Commission Waste Water Lift Station was set out for design, with a goal of pumping all its waste to the Red Deer Waste Water Treatment Plant.
THE PROBLEM
The client possessed a small footprint for an existing building, therefor a custom design had to be executed. With that said, separate distribution and VFDs along with separate active harmonic filters were not an option.

In addition to this, high reliability was required to ensure that no unexpected shutdowns were to occur, and high harmonics needed to be taken care of, as well as protection from lightning. A quick delivery and flexible design was also needed, as delivery was time-consuming and design was inflexible with the traditional MCC.
OUR SOLUTION

T&T Power Group decided to provide a custom Motor Control Panel (MCP) that included significant distribution, with 3x 185HP pump VFDs + 90HP emergency VFDs, each with a dV/dt filter. Also included was a 360A active harmonic filter, along with a lighting transformer, lighting panelboard, feeder breakers, TVSS, and customer metering. All of this was included in one entire line up, eliminating the need for separate VFD circuit breakers. The AHF was a modular, true 600V design, and was contained all in one enclosure, further saving on floor space and increasing performance. The VFDs used accommodated high reliability applications, and as such, they possess thin film DC bus capacitors for longevity. All of the printed circuit boards are conformally coated to withstand the elements.

The icing on the cake was the high resistance grounding system of the plant, which allows for equipment to continue running in case of a ground fault. The feeder breakers had CTs which pinpoint with precision where the ground fault may be, or where it may occur (ground fault predicting).

The response time our team had for drawings and any design changes mid-way through the DWGs or construction were immediate, which also made our client very happy.