Case Study
|
Custom VFD Solution
TIRE DRIVE AGGLOMERATION DRUMS

Building a custom VFD solution with optimized performance and a perfect integration with the client's environment.

Download PDF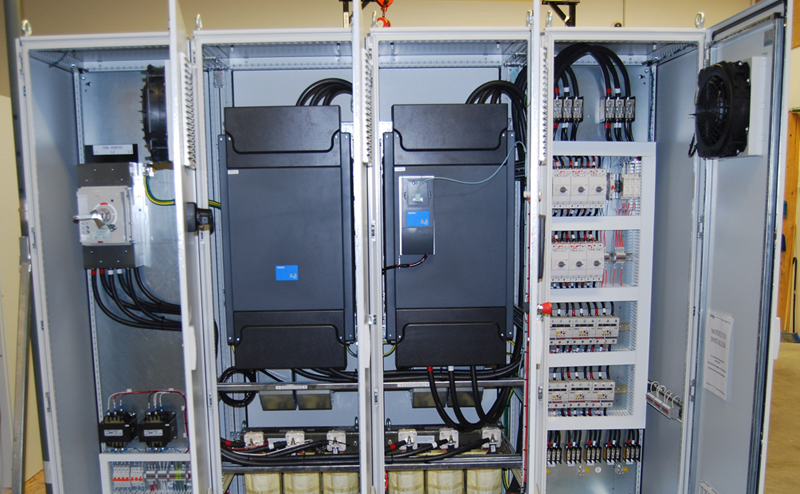 BACKGROUND
These Tire Drive Agglomeration Drums are designed to prepare feeds with high fines content for gold and base metal heap leaching operations. The agglomerating action in the agglomeration rotary drum, combined with small additions of cement, lime or organic polymers, binds the fines into an agglomerated pelletized product. The machine utilizes the Mineral Systems Pneumatic Tire Drive System, which provides an alternative to standard chain and gear drive systems. This system of rubber tires mounted on independent gearboxes has been proven in numerous difficult applications, and has been shown to provide excellent serviceability and reliability.
THE PROB​LEM
Because of the weight of the material, the machine has a very high starting inertia which can result in high motor starting currents and stress to the rotating parts. Additionally, as the agglomerate changes the speed must also be changed in order to achieve the proper mixing and concentration.

OUR SOLUTION

T&T Power Group was able to design a custom VFD solution for the client. These VFDs are designed for high overload and starting torque capabilities, with the cabinet selected for the ambient environment including tropical regions around the world. The system is also designed to communicate with the client's automated control system and the plant system network. All the necessary protection and control schemes are built into the cabinet which allows for easy and fast installation and start up.

T&T Power Group trained the client's service team so they can easily perform the start-up themselves, and worked closely with their engineering team to ensure the system was designed to maximize performance and reliability.