Case Study
|
Servo System Upgrade
WESTFRASER BLUE RIDGE LUMBER

Upgrading an aging system: From hydraulics to electro servo control for high-speed log merchandising.
Download PDF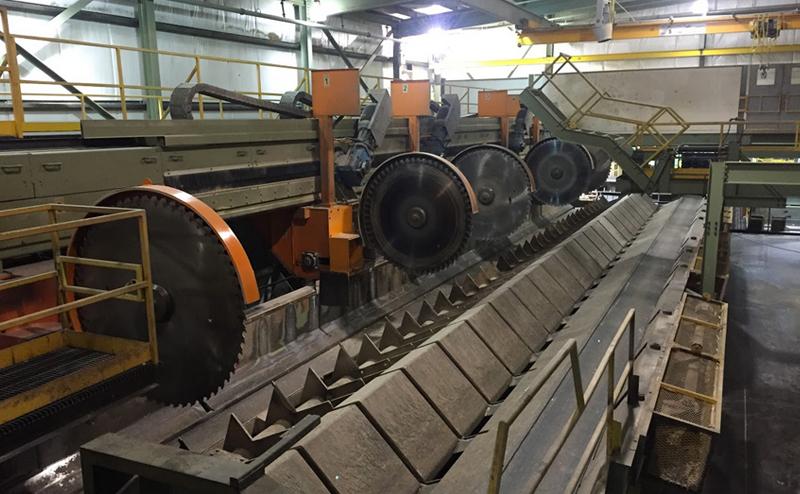 BACKGROUND
Acquired by WestFraser in 1995, the Blue Ridge Lumber mill in Blue Ridge, Alberta is the largest lumber producer in North America - operating 40 mills across Western Canada and the southern United States. The company has since been constantly improving their production with better equipment, and T&T Power Group is proud to be an integral part of that process.

A high speed log merchandising system was installed in 2004, and since that time the Blue Ridge mill has become one of the company's most efficient sawmills. The log merchandiser cuts stems into shorter logs after optimizing them for the best value by scanning, deciding which saws to use, and then cutting with a series of saws which travel on a track along the length of the stem.

These five saws are controlled by an electro servo drive and motor actuator - a technology that is replacing hydraulically actuated arms in the industry. This electrically powered system avoids the requirement for any hydraulics, providing many benefits as hydraulics require more maintenance for hoses, cylinders and seals, which can lead to oil leaks and other problems.

THE PROB​LEM
Our client was dealing with an aging system, and it was becoming more and more difficult for them to find replacement parts. But above all else, Blue Ridge needed to keep up with the evolution of their industry and upgrade to an electrically powered system that was energy-efficient, environmentally friendly, and easy for staff to operate and maintain.

OUR SOLUTION

T&T Power Group had installed the original servo system in this mill 12 years ago, and this new installation provided a much-needed upgrade. The original system had utilized a DeviceNet communication system, while the new system now features Ethernet/IP. This is easier to integrate with a process control system and communicates much faster.

The new system uses current software and diagnostic tools, making it much easier for the mill staff to operate and maintain, and will be reliable for many years to come.

T&T Power Group designed, assembled and tested the system at our facility. The exhaustive testing processes we employ allows us to install and start up systems efficiently and without major interruptions to production.

Electro servo controls are more energy efficient: 85% efficient vs. hydraulics which are 50% efficient at their best. They are also environmentally friendly as they operate without the need for oil and oil disposal. They are also more accurate, offering better precision in position, speed and force.